In a momentous display of enhanced cooperation, Iran's President Ebrahim Raisi and Pakistan's Prime Minister Shehbaz Sharif inaugurated two pivotal economic projects at the shared border of their respective nations, highlighting the significance of cultivating stronger bilateral ties.
The ceremonial opening of a joint border market, straddling the cities of Pishin in Iran and Mand in Pakistan, was accompanied by the launch of a new power transmission line. Both leaders were in attendance, emphasizing their commitment to deepening their nations' relationship.
During a subsequent press conference, Raisi extolled the closeness between Tehran and Islamabad, expressing the mutual intention to bolster and advance their rapport. Echoing these sentiments, Sharif, as cited by the Iranian Presidency's official website, emphasized the fraternal bond between the two nations mere geographical proximity.
"We have no doubt that Iran and Pakistan are brothers and their relations are more than just neighbors, they are relations of kinship", said Sharif.
The leaders also underscored the importance of "security" in their shared border areas, with Raisi envisioning the border as an opportunity rather than a threat. He highlighted the presence of high-ranking officials as testament to the border areas' elevated security. Sharif concurred, asserting that intensified border security would play a pivotal role in the advancement of bilateral relations.
Pakistani sources said that the newly-established power transmission line would facilitate the importation of over 100 megawatts of electricity from Iran, aimed at fulfilling the energy requirements of Pakistan's Gwadar port. In recent years, Iran has sought a free trade agreement and alternative trading mechanisms to circumvent the constraints posed by American sanctions, with trade between the two nations estimated $2-2.5 billion.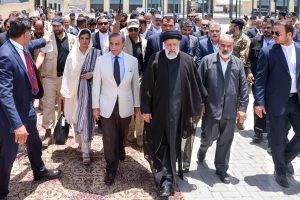 Raisi warning Taliban on water rights from Hirmand
During his visit to Sistan and Baluchistan province, Raisi addressed the issue of Iran's water rights from the Hirmand river, cautioning the Taliban government to heed his warnings. Iranian state TV broadcasted his firm message, urging the Taliban to take his words seriously. "If our experts confirm the lack of water, we have no dispute, otherwise we will not allow the rights of our people to be violated… Take my words seriously and do not complain later that you were not told about it", said Raisi.
Similarly, Iranian Foreign Minister Hossein Amirabdollahian underscored the importance of water supply from Afghanistan in a phone conversation with his Taliban counterpart on Wednesday, stressing the impact of the issue on the relationship between the two countries.