To improve their relations, Tehran and Riyadh must undertake gradual steps, starting with non-interference in internal affairs and curbing hostile postures.
By Abas Aslani
The recent thaw in Iran-Saudi Arabia relations, following decades of tensions, has sparked speculation regarding the potential for cooperation between these two regional powers. Despite numerous contentious issues between them, the factors encouraging collaboration and resolving regional disputes outweigh the challenges and uncertainties surrounding their relationship. As two pivotal players in the Middle East, Iran and Saudi Arabia can significantly influence regional geopolitics, with repercussions extending to the global stage.
A Cautious Outlook
Given the tumultuous history of Iran-Saudi relations, caution is warranted when predicting their future trajectory. In the past, the United States and Israel have exploited and exacerbated tensions between the two countries. Thus, even with the current normalization efforts, external interference and other detrimental factors cannot be wholly discounted. Unpredictable developments in the region, such as shifts in US policy and Israel's regional activities, could further complicate matters. Nevertheless, a cautious assessment suggests that a new chapter in Iran-Saudi relations, marked by pragmatism and reduced regional tensions, is the most likely scenario.
Pathways to Improved Relations
A fundamental principle in international relations posits that shared motivations and understandings can foster cooperation and convergence, even when such collaboration initially seems improbable. China's recent efforts to enhance relations between Iran and Saudi Arabia, as its regional partners, attest to this notion. To improve their relations, Tehran and Riyadh must undertake gradual steps, starting with non-interference in internal affairs and curbing hostile postures.
Iran and Saudi Arabia are the two critical regional powers with a wide sphere of influence and inseparable allies in the region. Several decades of tension in the relations between Tehran and Riyadh have not eliminated the demarcation of the spheres of influence between the two countries. Accepting this fact is the first step in understanding to avoid further confrontation and pay attention to points and areas of cooperation. They need to focus on shared interests, such as Islamic values, regional peace, and opposition to separatist movements, can facilitate the rebuilding of trust.
Potential Areas for Cooperation
Despite historical rivalries, Iran and Saudi Arabia can identify areas of mutual interest and collaboration. Recognizing that self-centered policies in the Middle East can harm both nations, they can leverage their political weight to resolve existing conflicts. By fostering dialogue and trust, they can promote peace negotiations in Yemen, reduce political tensions in Iraq and Lebanon, and diminish military concerns in the Persian Gulf.
Primary avenues for cooperation include supporting scientific and academic exchanges, tourism, technical and engineering services, and commercial relations between private and public sectors. Establishing commissions, friendship groups, and joint chambers of commerce can further catalyze collaboration. The 1998 General Agreement on economic, commercial, investment, technical, scientific, cultural, sports, and youth cooperation between Iran and Saudi Arabia provides a foundation for bilateral cooperation in various fields, reaffirmed in the document outlining the reconstruction of relations in March 2023.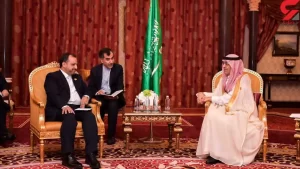 Developing security cooperation is another crucial step towards transitioning from confrontation to interaction between the two countries The 2001 strategic security agreement between Iran and Saudi Arabia alludes to cooperation in intelligence sharing, combating organized crime and international terrorism, fighting economic crimes, and addressing other security challenges.
Multilateral Cooperation
Iran and Saudi Arabia can also collaborate the framework of multilateral agreements and organizations. Their joint participation in transportation projects, such as the North-South corridor targeting South Asia and Africa, presents new opportunities for cooperation. China's interest in the geopolitical influence of both Iran and Saudi Arabia, as demonstrated by their simultaneous membership in the Shanghai Cooperation Organization and China's Belt and Road Initiative, further bolsters the potential for transportation collaboration and broader regional economic integration.
The views expressed in this article are those of the author and do not necessarily reflect the positions of Iran Nuances.
This is an edited version of an article earlier published on SCFR.