Iran's strengthened ties with Turkmenistan, shortly after the opening of the Israeli embassy in Ashgabat, is indicative of Tehran's network diplomacy, aimed at countering Israel's peripheral policy that seeks to isolate and undermine Iran's relations with neighboring states.
In the realm of geopolitical and geoeconomic partnerships, Iran and Turkmenistan have recently signaled their strengthened ties. This comes shortly after the opening of the Israeli embassy in Ashgabat. The visit of Gurbanguly Berdimuhamedov, the former president and head of the People's Expediency Council of Turkmenistan, to Iran resulted in the signing of five cooperation documents, encompassing transit and international corridors, gas, electricity, trade, and investment. This move is indicative of Iran's network diplomacy, aimed at countering Israel's peripheral policy that seeks to isolate and undermine Iran's relations with neighboring states. Consequently, Iran strategizes to capitalize on its geopolitical and geoeconomic connections with its neighbors through its neighborhood policy.
Turkmenistan in the North-South Corridor
A crucial aspect of Iran-Turkmenistan economic cooperation is their geopolitical complementarity, striving to fulfill Turkmenistan's commercial and technical requirements. Turkmenistan's economic documents highlight Ashgabat's appreciation of Iran as an invaluable partner in achieving its geopolitical objectives. The Ashgabat Agreement, ratified in 2011, exemplifies one such agreement that seeks to establish an international transport and transit corridor with Oman and Uzbekistan as fellow members. This accord forms part of the North-South Corridor agreements, aiming to link Central Asia with South Asia and the Persian Gulf via Iran. At the "Transport and International Transit Corridors: Connection and Development" conference convened in Ashgabat in July 2022, Turkmenistan proposed two international transit routes under the umbrella of Economic Cooperation Organization (ECO) member countries: the "Kazakhstan-Uzbekistan-Iran Corridor" and the "Tajikistan-Uzbekistan-Turkmenistan-Iran-Turkey Corridor", both traversing Iran.
Iran offers Turkmenistan the closest pathway to the open waters of South Asia and the Persian Gulf. Meanwhile, Turkmenistan's strategic position is highlighted through its inclusion in one of China's Belt and Road Initiative's six primary corridors – the China-Central Asia-West Asia Corridor. Ashgabat aims to enhance the standing of Turkmenbashi port, along with its four border crossings with Iran – Sarakhs, Lotfabad, Bajgiran, and Incheh Borun – to fortify its position within international corridors further. The Atrak-Barakat-Gorgan railway line illustrates a tangible instance of active cooperation between Iran and Turkmenistan concerning transportation, in addition to their shared sea routes via Amirabad and Anzali ports. Both nations strive to integrate into regional and international geo-economic networks by proposing initiatives to complete their transportation system.
Turkmenistan prioritizes the transportation sector, emphasizing transit development through bilateral and multilateral international and regional dialogues with China on one hand and Turkey on the other. As stipulated in the National Program for the Socio-Economic Development of Turkmenistan, the modernization and diversification of their multimodal transportation system encompassing road, rail, air, and sea travel are designed with the national, regional, and international levels in mind. These infrastructural components intend to position Turkmenistan squarely within international corridors such as the North-South corridor, the Lapis Lazuli corridor, the East-West Corridor, and The Transport Corridor Europe-Caucasus-Asia (TRACECA), strengthening connections between the Black Sea and the Caspian Sea regions.
Turkmenistan is committed to advancing its regional and international corridor positionality through strategic endeavors encompassing the operation of Turkmenbashi international port, construction of Kazakhstan-Turkmenistan-Iran railway lines, establishment of rail and sea bridges on the Amu Darya pipeline, and further development of international airports. Russia, too, is in talks with Turkmenistan to secure a direct link via the Caspian Sea region, potentially contributing to the North-South Corridor.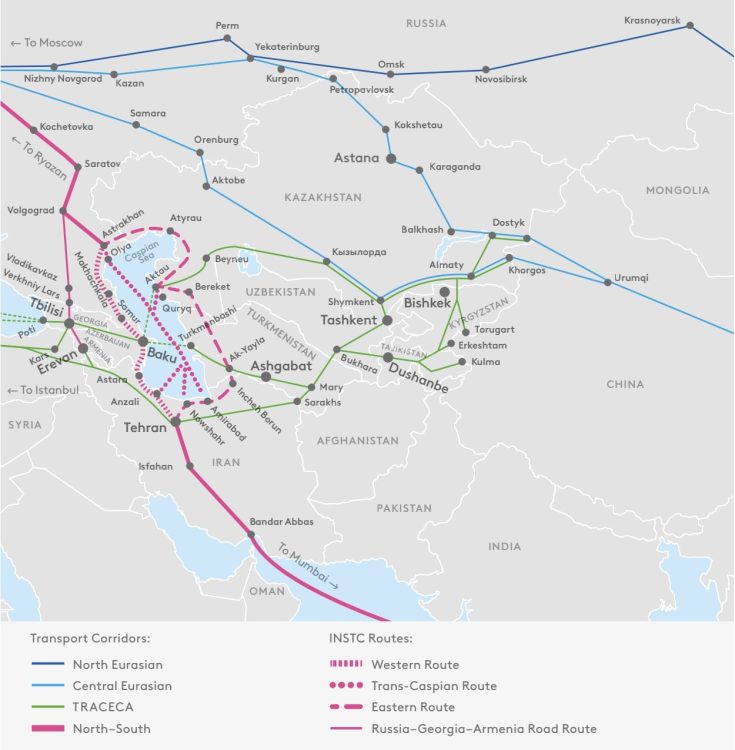 Increasing the volume of business relations
Trade and commerce constitute another vital dimension of Iran-Turkmenistan relations, with the latter state representing a significant market for certain segments of Iran's economy. The Incheh Borun local bazaar exemplifies a crucial channel for exporting food and consumer goods from Iran to Turkmenistan. Iran endeavors to enhance the infrastructure of these markets, streamline mechanisms, and guarantee financial exchanges, ultimately strengthening Iran's competitive commercial positioning vis-à-vis China and Turkey.
Iran's customs report for 2021 reveals that trade between Iran and Turkmenistan has shown promising growth, with the estimated export volume from Turkmenistan to Iran at approximately $33.3 million, and Iran's exports to Turkmenistan totaling around $335 million, exhibiting an 11% increase compared to the previous year.
Interaction and competition in the field of energy
Energy serves as a significant domain for interaction and competition between the two nations, as exemplified the 2022 contract signed during Berdimuhamedov's visit to Tehran, which stipulates the export of 10 million cubic meters of Turkmen gas to Iran daily. Despite the presence of the TAPI and Trans-Caspian pipeline projects on the agenda and Turkmenistan's interest in diversifying its gas export destinations, Iran remains one of the most accessible and cost-effective options for Turkmenistan's gas swap or transfer. This collaborative approach extends to the production and export of electricity, fostering opportunities for Turkmenistan to export gas through Iran to markets such as Turkey, India, and Pakistan.
Competition with Chinese and Turkish initiatives
In November 2021, Iran, Turkmenistan, and Azerbaijan forged a gas swap agreement for up to 2 billion cubic meters per year. Under this trilateral accord, Turkmenistan will sell 5-6 million cubic meters of gas daily to Azerbaijan, while Iran will draw from the gas transfer allocation to meet the consumption needs of five provinces. Concurrently, Iran seeks to resolve an outstanding gas debt dispute with Turkmenistan, which claimed in 2017 that it remained owed $1.8 billion for gas delivered to Tehran.
Iran confronts competition from China and Turkey over Ashgabat due to their political and economic sway and capacity to bolster the geo-economic initiatives of Turkmenistan. Nevertheless, Iran-Turkmenistan relations occupy a salient position within the political-economic strategies of both Tehran and Ashgabat.
As Turkey endeavors to establish itself as a natural gas hub and alternative supply route to the European Union, the Trans-Caspian pipeline aims to facilitate connections between Turkmenistan, the Republic of Azerbaijan, Turkey, and the European region. In January 2021, Turkmenistan and the Republic of Azerbaijan signed a memorandum of understanding concerning the joint development of the Dostluk field in the Caspian Basin. This agreement is viewed as a precursor to the construction of the Trans-Caspian Pipeline, which would connect Turkmenistan's hydrocarbon production with the Republic of Azerbaijan, Turkey, and Western markets.
Through the swap agreement, Iran strives to diminish the significance of the TAPI pipelines (Turkmenistan-Afghanistan-Pakistan-India gas transmission pipeline) and the Trans-Caspian pipeline (Turkmenistan-Azerbaijan-Turkey). Iran and Russia's efforts to further integrate Turkmenistan into the North-South Corridor should also be understood in the context of China's Belt and Road Initiative and the Lapis Lazuli corridor (spanning Afghanistan, Turkmenistan, Azerbaijan, Georgia, and Turkey).